Today's nice weather got me start thinking about what to put on my feet when there not all covered up in boots. The bottom line is...I'm tired of ballet flats. As comfy and as versatile as they are, I need a new alternative to the flat. My day-to-day toddler chasing limits my shoe choices to something practical and comfy, but I don't want to sacrifice style either. Otherwise, I could just wander around in crocs, right?
I've got my eye on a pair of tan, taupe, and grey oxfords. I think that they would look cute with straight-leg jeans and cords that hit just at the top of the shoe, which would work for winter-spring. They're perfect with skirts, dresses, and shorts for spring-summer.
What do you think about oxfords--are they a yay or nay for you?
Which do you like from the following list?
Joan and David, "Zena", 180
Boutique 9, "Brazen", 149.95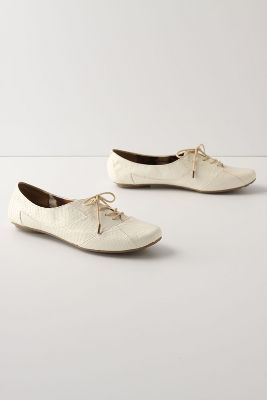 Slither and Saunter, 129.00
Frye, "Erin", 167.95
Pour La Victoire, Charlie, around $100
Steve Madden, Tuxxedo, 78.95